Posted by Jason W on Monday, 01 July 2019 at 1:25 PM
A Letter From Our President Rob Powell
THE GOOD, THE BAD AND THE UGLY
First, the good news. The Museum is open! In late April a contractor finished re-tuck-pointing the bricks on the Old City Hall and the City of Belton allowed the fencing and scaffolding to be removed. The museum reopened on May 2nd, and we've had a steady stream of visitors since then.
On a related note (see the April 2019 newsletter for more details) the Belton Presbyterian Church obtained a second opinion from a second structural engineer who found the building structurally sound and not a candidate for demolition! The church is in the process of raising money to fix the chimney and make other repairs, but the building will remain a fixture on Main Street!
On May 25th we hosted the This Place Matters Celebration of Preservation Month in Missouri. Joining Liberty, Marceline, Harrisonville, Kirksville, and other Missouri cities, Belton hosted visitors from around the state at the Old City Hall. We conducted tours of the Museum, Main Street Theater, and the carriage house for many people.
One day earlier several volunteers finally installed the museum sign that had been missing from the front of the building for almost 3 years. Thank you to Mike VanEaton, Dewaine Lewis, Dennis Hull, and Jared Rinck for your help — the sign is beautiful!
Jared Rinck and I are on a mission to synchronize the paper copies of the Belton Star Herald in the carriage house with the microfiched copies in the State of Missouri Historical Society in Jefferson City. Once we know that the State has a complete set, we'll investigate routes to getting the copies online.
Joe Robertson led the audit committee through the books and found that the Society is honest AND staying solvent! Thanks to Ed Maurer our former treasurer and Janna Dillon our new treasurer for your diligence.
Karen Calvert and the scholarship committee presented five $1000 scholarships to Belton High School seniors!
Second, the bad news. We have a lot to do to get the Old City Hall back into shape. After recent torrential rains we've had several leaks, some of which have stained paint that was just applied last winter. Apparently the outside brick and mortar, even though it is stable, is leaking like a sieve in certain areas. The very next step for BCPI, Main Street Theater, and the Historical Society, which have been sharing costs, is to seal the complete outside of the building to prevent moisture intrusion. We're just waiting for final bids and a dry series of days. On top of this, even though the building was deemed 'structurally sound' by two structural engineers, we need to install more tie bars in the attic to keep the exterior walls from sagging. This will cost $$$ — see a related article below for your opportunity to help out!
Despite Jackie Kreisel's excellent coordination, we still have a GREAT need for new docents. Without docents, the Museum will have to close. PLEASE consider your schedule and try to help us out one session a month.
Finally, the ugly. Many of our members who no longer live in the Belton area are probably not aware that the City of Belton seems to be in crisis mode. The City has canceled our current recycling and trash service, forced the resignation of the fire chief, and allowed a tornado-laced storm to pass through town with only a few of the 18 sirens blaring. A lot of rumors are flying around — we're all praying that things will return to normal soon.
General Meeting—Sunday July 28th—2:30PM
In the Main Street Theater side of the Building
510 Main Street, Belton
The April Meeting of the Belton Historical Society will be held in the room behind the museum, Main Street Theater.
During the meeting we will meet and recognize the students who won this year's scholarships from the Belton Historical Society. We want all our members to see the next generation of Beltonites who will lead us in the future.
We will have a program after a brief business meeting and refreshments following. If you would like to donate refreshments, please call Pam Powell at 816-331-6710.
(President's Letter continued from Page 1)
If the local news is of interest to oyou, you might consider a subscription to the North Cass Herald. Editor Allen Edmonds is a LIFE Member of the Historical Society and he works hard recording current events, events that become the history of the town. Write to Allen at The North Cass Herald, 120 Main Street, Belton 64012 to learn more about a subscription.
This last item is neither good, bad, nor ugly—just a lament. We have several historical treasures and humanitarian needs in Belton that are gradually declining due to lack of people and money to stem the degradation. WE NEED HELP! Please consider volunteering with the Historical Society, the Belton Railroad, Downtown Main Street, Heart-N-Hand, community meals in the city and at Lord of Love Lutheran Church, Belton Welfare, and other worthwhile non-profits. There are many of us in our '60's–'90's who are doing our best, but we need more help. Again, please consider volunteering or contributing! Belton and YOU will benefit!
Contest
We had NO winner for our April newsletter contest, so we're repeating it for 1 more edition.
We're asking you to check your newsletters for a mistake I've consistently made over the last 2 years. We've just corrected it in the April issue. What is the mistake, and, for extra bonus points, when was the same mistake made prior to the last 2 years?
Prize: one free year of membership OR a VISA giftcard for $15. Bonus: a second free year OR a total $25 giftcard. First person to contact me via e-mail (robpowell@sbcglobal.net) or regular mail (BHS, PO Box 1144, Belton, MO 64012) is the winner.
Millard Fillmore Everett, a Distinguished BHS Alumni
Thanks to Woody Dick, we have evidence that a 1919 graduate of Belton High School, Millard Fillmore Everett, was editor of the The Clarion Herald, the weekly newspaper of the New Orleans Catholic Diocese, during the 1950's and 60's. Many of Everett's articles were published nationally, particularly those advocating racial justice during the Jim Crow period in the South. In addition, his cousin, Dr. Millard Spencer Everett, was a best-selling author and professor in Chicago and the University of Minnesota. Born in Belton (but unclear if he graduated from Belton High), the latter Everett's most popular book seems to be "The Hygiene of Marriage" (1948). It's available on Amazon.
Is a Sad Day on the Horizon?
Jackie Kreisel reports that we have one new face greeting our visitors to the museum. Welcome to Virginia Kaps our new docent on the 1st Tuesday of each month.
What would happen if our beautiful museum stopped being available to the public?
We really need YOU to sign up to be a docent at the museum. We like to have two docents per shift so that one can take guests to the carriage house and the other stay in the main museum building. This is a 3 hour shift ONCE A MONTH! Please consider giving the gift of your time and be at the museum to greet our guests. It is a great opportunity to give a little back to your Historical Society and to your community. Jackie Kreisel is the chair of the docents, please call her 816-331-1571.
The Museum will be Closed on Thursday, July 4th, 2019.
Join the Fun at a Fund Raiser for Old City Hall
Belton's HOT Talent Night and Silent Auction, sponsored by Main Street Theater, will be a fund raiser for BCPI. After the Old City Hall was closed in March, although the building was deemed structurally sound, there is much work to be done to prevent further water damage inside our museum and to prevent future problems. Every penny raised for BCPI means that the Belton Historical Society has to contribute less to the future building woes.
We also want to thank the following people who donated graciously to BCPI when the building was closed in March: Susan Kelly and the estate of Mary Kelly. We are grateful for your continued support of our historic building.
Condolences
It is with heavy hearts that we express condolences to the family of a faithful Historical Society member who served as a Docent for many, many years. Ona Ruth Smith passed away on June 21, 2019 at her residence at Beautiful Savior Nursing Home. Many Historical Society members attended a celebration of Ona Ruth's life at Crossroads United Methodist Church on Saturday, June 29th.
The Belton Historical Society Honors Top Scholars
The Belton Historical Society announced and presented the 2019 scholarship recipients at the Belton High School Scholarship and Awards Ceremony at Memorial Station. Believing that these students will go out into the world and/or perhaps return to Belton and create history for our community, five top students were awarded $1,000 scholarships.
Pictured are (back row) Scholarship Committee members: Karen Calvert, chairperson, Rob Powell, president, Jackie Kreisel, Elaine Wilson, Sally Smith and Charlotte Bradley. The scholarship winners were: Grace Dunlap, Daniela Sanchez, Josie Cross, Gabrielle Stoddard and Tara Hartenbower.
The Belton Historical Society strives to welcome newcomers to their organization by making the museum and the study of local history relevant to today's residents. It is hoped that others will join the society and contribute to "making history in Belton"!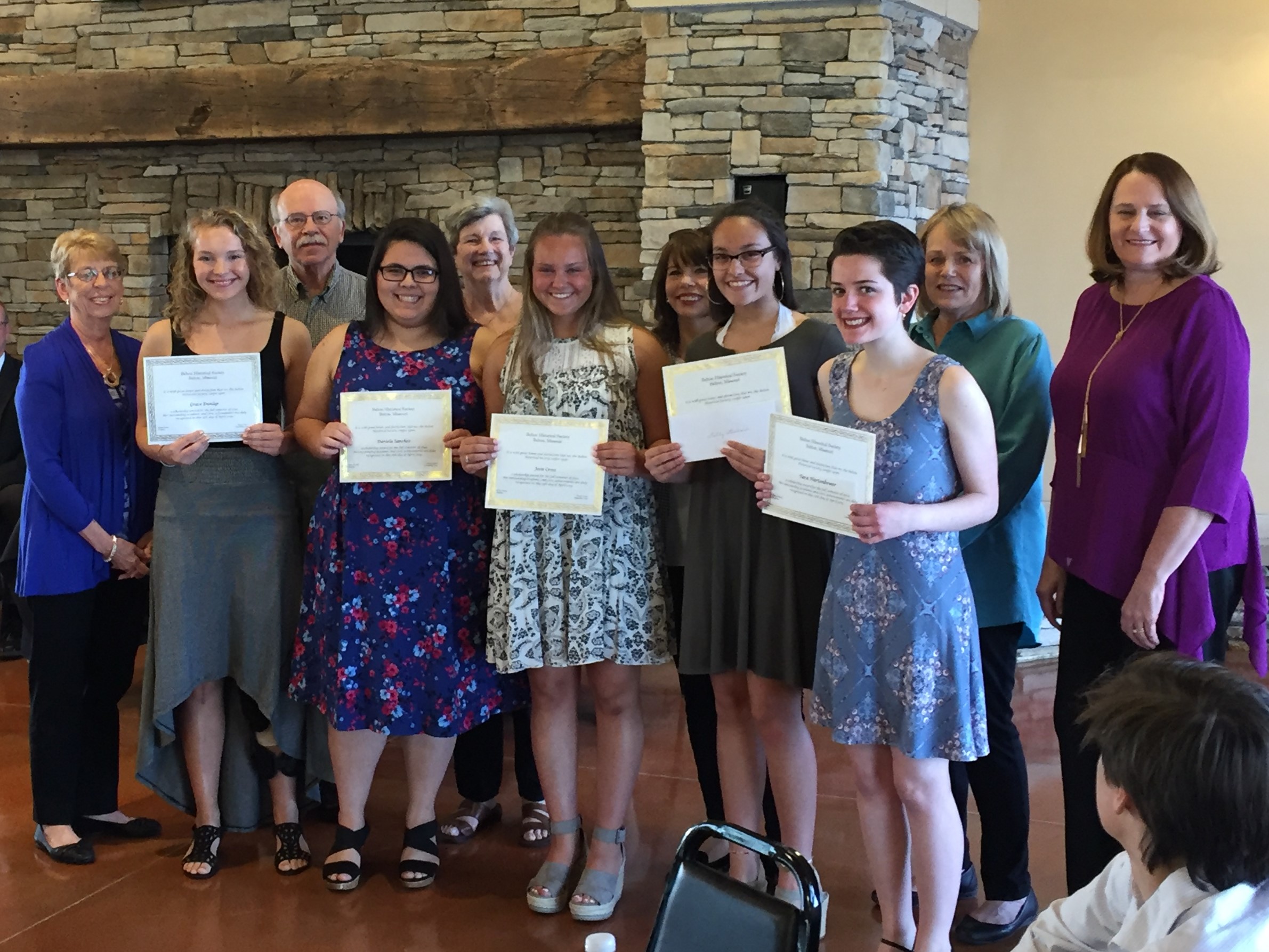 Donations
BCPI (Belton Community Projects, Inc.) is responsible for repairing the Old City Hall. Costs for repairs and safety measures could top $40,000.
In addition to our historical displays at the Belton Museum, a key attraction is the Old City Hall itself. Our community and history will be negatively affected if we allow this building to decay.
A group of concerned Belton citizens faced a similar challenge in the 1970's. Many of their names are on the donation plaque (still hanging in the Main Street Theater auditorium) shown below, including: Fay, Wilhite, Good, Mullen, Grace Company, Western Auto, Ives, McKee, Jackson, Keeney, Perme, Wickert, Mosby, Bank of Belton, and many others.
If you would like to donate to help with these repairs, please send your tax-deductible donation to:
BCPI
PO Box 424
Belton, Missouri 64012