Posted by Jason W on Monday, 01 April 2019 at 11:00 AM
A Letter From Our President
Rob Powell
THE SKY IS FALLING
For those of you who have visited downtown Belton recently you've noticed fencing and scaffolding around the Old City Hall, which houses the Historical Society Museum. On March 12th, while Pam and I were taking a train to St. Louis, Belton Fire Chief Norman Larkey called my cell phone to advise me that he had shut the building and cordoned it off with yellow tape. Fortunately, he allowed our 2 faithful museum workers, Jackie Kreisel and Karen Calvert, to exit before the "Do Not Cross" barricades went up!
Apparently that morning Mayor Jeff Davis was walking near the Old City Hall (which, for out-of-towners, sits between the 2 current City Hall buildings), and noticed some mortar debris falling from the top of the building. He and Chief Larkey decided to shut it down. Ironically, one of my tasks for the spring was to hire a mason to check the mortar and brick status once the weather warmed. Now, in addition to the cost of the brick work (called tuck-pointing), Old City Hall has the additional expenses of fencing, scaffolding (to protect nearby pedestrians), and a Belton-required engineering report (see article on Donations also in this newsletter). At NO TIME has a brick or partial brick fallen from the building.
The engineer's report for the building identified 3 items that required attention:
scaffolding to protect pedestrians
sidewalk cleaning to remove debris that may hinder footsteps
re-point mortar joints when weather permits
The first 2 items are accomplished and ongoing. The third seems simple but requires some investigative work into the cause of the mortar failure before we 'fix' a problem that may recur. The main conclusion for our purposes is that "the building is in a stable, safe, and sound condition", i.e., the problem is the external building façade.
The hired structural engineer tentatively concluded that the roof, made of TPO (thermal polyolefin) rubber, is expanding and contracting with the weather and ultimately flexing the parapet wall (the 4-foot-tall parapet wall extends vertically from the roof along 3 edges of the building and basically makes the building look taller than it is and hides the air-conditioning units). Eighteen months ago, we had the TPO roofing extended vertically inside and over the top of the parapet wall to prevent moisture from entering the top of the parapet wall and damaging our interior walls. This worked perfectly (so far), but now the covering seems to be contributing to loose mortar on the outside of the parapet wall. As far as can be determined, the mortar and brick on the building below the parapet wall is secure.
I'm sure you know that the roofing company had an entirely different explanation for the problem. They insist that the TPO roof (horizontal portion installed in 2009, vertical parapet wall portion installed in 2017) is in excellent shape and contains a layer of polypropylene plastic (think car bumper) that does not contract and expand, certainly not enough to cause parapet wall flexing and mortar release. They contend that the white TPO roof is limiting evaporation of moisture from the parapet wall by: a) covering over ½ of the parapet wall surface, and b) keeping the parapet wall cooler (by possibly 25º or more). This means that frozen winter moisture stays in the wall longer during sunny, cold days and eventually cracks the mortar during spring thawing.
The second explanation seems to be the consensus of the 3 masons who have examined the issue and bid on the work to fix the mortar. To test the ultimate cause, we will have the exterior parapet wall mortar fixed and sealed. Sealing during this summer when it is hot and dry will result in a minimum of moisture sealed into the parapet wall. Next winter the sealant will keep moisture out of the wall, and there should be no freeze/thaw mortar damage. However, if we have mortar failure next winter then that implies that the TPO roof IS flexing the parapet wall sufficiently to cause mortar release.
Why am I telling you this when BCPI (Belton Community Projects, Inc.) is our landlord and ultimately responsible for the building? BCPI has given up several of its money-making projects (Community Days, Veterans' Day Parade, etc.) because the projects no longer make money. The only way BCPI can maintain the building is through the rent we pay. What do we pay? Ten dollars a year (we also pay for part of the utilities). The other building occupant, Main Street Theater, pays substantially more, $500/month + utilities, but this is not sufficient for the catastrophic costs of scaffolding, fencing and repairs. Until the building is repaired, the Museum will be closed. Again, see Donations below.
You may have also seen or heard that the Presbyterian Church (122 Main Street) has also been barricaded due to structural issues. If anything, the church has a much bigger problem than the Old City Hall. On Ash Wednesday, less than a week before our building shutdown, the chimney fell off the Presbyterian Church and a structural engineer found that the 125-year-old church foundation had failed. The church, which has less than 50 members, is trying to determine how to afford bracing, fencing, and ultimate foundation repair. PRAYERS ARE NEEDED!
The City of Belton was founded in 1872. Many of the buildings on Main Street are 100-years-old. Although buildings can 'live' longer than humans or trees, they can't live forever!
General Meeting—Sunday April 28th—2:30 PM
In the Main Street Theater side of the Building
510 Main Street, Belton
The April Meeting of the Belton Historical Society will be held in the room behind the museum, Main Street Theater.
We will discuss the progress of the current status of the Museum entrance which is currently fenced off , making the museum inaccessible to the public.
Our speaker will be Becky Fenske, President of Missouri Puppy Mill Rescue. Did you know that Missouri is the #1 state for puppy mills on the Humane Society's Horrible 100 list? Missouri Puppy Mill Rescue works with other organizations to assist in rescuing neglected, discarded small breed mill dogs. Learn what life is like for these beautiful female dogs whose only purpose on earth is to create puppies to be sold. The job of rehabilitating these dogs is huge, for their abuse is real. Medical needs are necessary to provide optimum health for the dog. Once rehabilitation is well on its way, the rescue group searches for a home where she can live out her life in peace and comfort.
Come and join us as we hear this fascinating story first hand! Be ready to meet a rescue dog, too!
If you are interested in helping, Becky indicates that her greatest need currently is:
Lysol Clean & fresh multi-surface cleaner
Paper towels
You may bring items to the meeting.
If you would like a sneak preview, visit the website:
Donations
As described in the President's letter above, BCPI (Belton Community Projects, Inc.) is responsible for repairing the Old City Hall. Costs for repairs and safety measures could top $40,000.
In addition to our historical displays at the Belton Museum, a key attraction is the Old City Hall itself. Our community and history will be negatively affected if we allow this building to decay.
If you would like to donate to help with these repairs, please send your tax-deductible donation to:
BCPI
PO Box 424
Belton, Missouri 64012
Past Programs—A Post Script
We bring a sad note to this newsletter about the possible demise of the oldest building on Main Street, The Belton Presbyterian Church. We feel blessed to have been able to tour this historic building and hear from representatives of the original Belton Christian Church and the current Presbyterian Church, namely Dr. James Bottrell and Robert Powell (member of the current church council). We are very sad to share local news that the church building has been condemned because of significant foundation problems. Current estimates to repair and restore the historic building are extremely high and most likely more than the current congregation can afford. We hope this brings greater importance to our gathering at the church and the ability to see the beautiful stained glass windows that were shipped from England in the 1800s.
Due to unavoidable circumstances our January speaker was not able to attend our general meeting. We are truly grateful to local actor, Ron Branan, who stepped right up and presented a reading from our very own First Hundred Years book. Voicing the text written by Jim Lewis of Belton, in 1958, it was possible to shut our eyes and imagine hearing this story in person. Ron brought the right tone and vocal nuances to the script and was so very well received.
Condolences
Last fall we received notice from Susan Kelly of Arlington, Virginia, that her mother, Mary (Manning) Kelly, died July 1, 2018. Mary Kelly was a docent and officer of the Belton Historical Society and wrote a column for the Belton Star Herald in the 1990's called 'Mary's Musings'. She also lived in Arlington, Virginia. Her daughter writes that Mary had a 'wicked sense of humor', something we all need these days.
Contest
If you are a wanna-be hoarder like me, you have a large collection of Belton Historical Society newsletters stashed someplace. As a contest, we're asking you to check your newsletters for a mistake I've consistently made over the last 2 years. We've just corrected it in this issue. What is the mistake, and, for extra bonus points, when was the same mistake made prior to the last 2 years?
Prize: one free year of membership OR a VISA gift card for $15. Bonus: a second free year OR a total $25 gift card. First person to contact me via e-mail (robpowell (@) sbcglobal (.) net) or regular mail (BHS, PO Box 1144, Belton, MO 64012) is the winner.
Thank You!

A special thanks to Martha Fraser, Jackie Kreisel, Bill Brady, Rob Powell and Karen Calvert for their help in moving displays, setting up displays and cleaning the carriage house. Other new displays in the carriage house besides Carrie Nation and Dale Carnegie are as follows: business machines/typewriters display with advertising/invoices and pictures of local businesses; updated Grace Company sewing machine display; additional rotary and push button phone displayed with vintage telephone switchboard; additional items with the Citizens Bank display - vault doors.
New displays inside the museum are the needlework display, 40's-50's kitchen/household display, updated Grace Company, and Belton City Hall display. We would be grateful for display ideas, help, and we request items for display either donated or loaned. Please call Jackie Kreisel at 816-331-1571 with ideas you'd like to share in our museum.
Is A Sad Day on the Horizon?
What would happen if our beautiful museum stopped being available to the public? We certainly hope that after the current building repairs are made, we can open every Tuesday, Thursday and Saturday as scheduled. We really need YOU to sign up to be a docent at the museum. We like to have two docents per shift so that one can take guests to the carriage house and the other stay in the main museum building. This is a 3 hour shift ONCE A MONTH! Please consider giving the gift of your time and be at the museum to greet our guests. It is a great opportunity to give a little back to your Historical Society and to your community. Jackie Kreisel is the chair of the docents, please call her 816-331-1571.
New Display Cases for Carry A. Nation and Dale Carnegie
Thanks to the generosity of Patricia Calvin, former Belton resident currently residing in Excelsior Springs and to Robert and Pamela Powell of Belton, two new display cases were purchased to be the new home for our Carry A Nation and Dale Carnegie exhibits. Pat's donation was given in loving memory of her husband Dr. Harold Calvin who moved to Belton in 1962 and served as a chiropractor in Belton for 50 years. Rob and Pam's donation was given in loving memory of Rob's parents, Robert Vincent and Kathryn June Powell who made Belton their home, right on Main Street in 1952.
Both exhibits have been refurbished and moved to the carriage house along with the Carry A Nation hearse. Be sure to come by the museum and see the new look!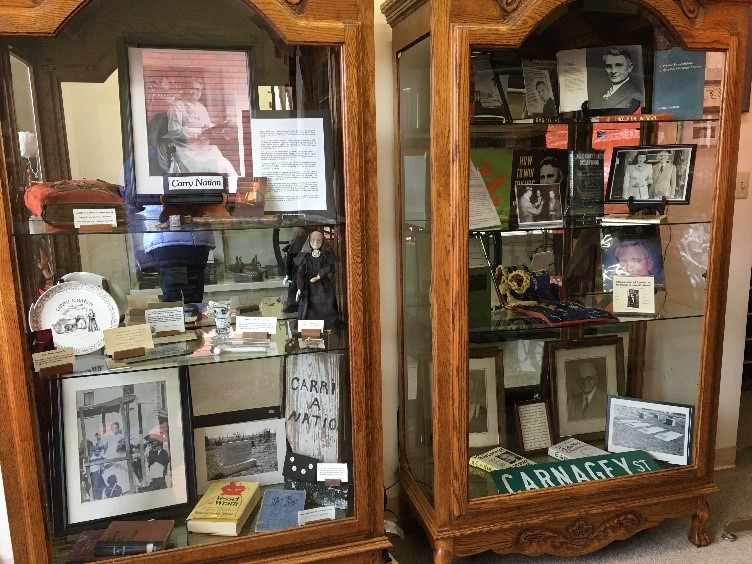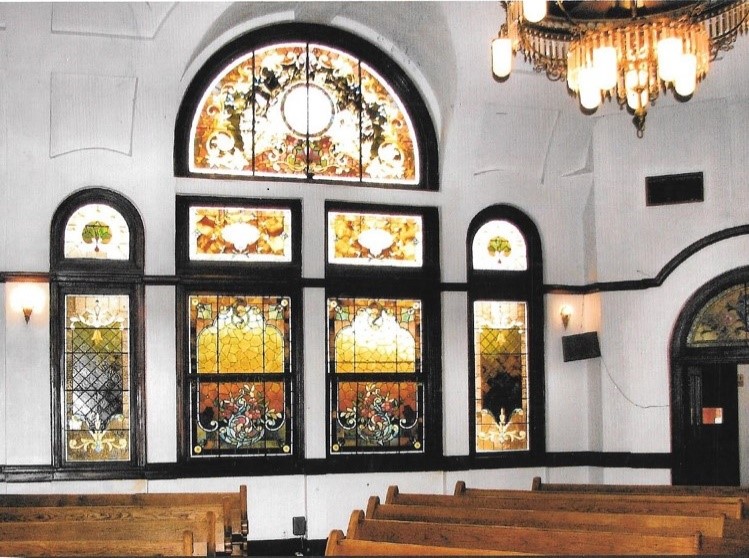 Our Webmaster Jason Weinzierl
Hopefully everyone has visited our website, https://www.beltonhistoricalsociety.org/. You also may know that our webmaster, i.e., the person that keeps the website electronically up-to-date, is Jason Weinzierl.
However, you probably don't know that Jason is a Belton High graduate who started as our webmaster while still at Belton High. Just this winter Jason graduated from University of Missouri with double major in math and physics. [Note that neither of these majors, which are two of the most rigorous in college, are not 'computer science', which means Jason has been effectively keeping up his webmaster computer skills in addition to graduating with 2 majors!].
Jason is now working on individual projects with a goal of a career in the software or space industry. Jason also has a musical background—his father, John, has been music teacher at Belton Middle School for over 20 years, and his mother, Anita, gives private music lessons and has led home-school choirs for 3 years. Jason's brothers are all in musical fields.
Jason now lives in Belton and is looking forward to continuing as our webmaster and adding improvements. If you have any items you believe are 'web-worthy', please send them to me and I'll forward them to Jason.
Congratulations Jason, and we hope to see you around town more often!
It's Time for Scholarships!
Right after the Christmas vacation, our Scholarship Committee hits the ground running, reaching out to students in the Belton Public Schools to locate worthy scholarship recipients. Committee Chair, Karen Calvert, reports that there were 25 applicants for our five scholarships. Of the original 25, 11 were invited to personal interviews with the committee. The scholarship committee consists of the following Board members: Charlette Bradley, Jackie Kreisel, Sally Smith, Evelyn Tabor, Elaine Wilson and Rob Powell, ex officio. The committee reports that they have selected this year's recipients and the scholarships will be awarded first at the BHS Awards Night presentation on April 15th at Memorial Station. In July, the scholarship recipients will be presented to our membership at our July general meeting.
A New Museum Display Coming Soon!
The Museum Committee announces that beginning this year, our museum will feature a long-time Belton family. Shortly, there will be a display created by the Weldon Jackson family. If you know a family who has called Belton home for many, many years, please suggest them as a possible family to highlight. Call Jackie Kreisel at 816-331-1571 or speak to her at the next general meeting.
Free Show at Main Street Theater
If you are a docent and would like to attend a show at Main Street Theater in June, September or December 2019, please tell Jackie Kreisel. We would like to have the Museum open during Sunday Matinees and any docent willing to welcome guests at intermission may attend the show for free. Thank you to the Powell family at MST for this opportunity to open our museum for more exposure in the community.
Orchards and Babies
We received a recent inquiry about the location of the Westervelt Orchards, which apparently started in the 1920's, from Ann McFerrin, the archivist for the Kansas City Parks Department. Faye Wallace, our unofficial REAL historian, was able to pinpoint the orchard directly south of the Bryant Cemetery (which is located about 1½ miles west of Snead's Barbeque). In discussing the orchard, which was started by the John Van Brunt family, Ann sent a clipping from The KC Times claiming that Mrs. Van Brunt moved her Grace Company from her Kansas City house basement to a building at 3219 Troost Avenue in Kansas City in Spring, 1937. Almost immediately after the move, 2 labor unions picketed the business even after Mrs. Van Brunt allowed a union to form. In the summer of 1937, the plant moved to the Old City Hall in Belton. Labor problems followed, as The KC Times reports that the National Labor Relations Board conducted a hearing in September, 1937 regarding a complaint from 3 Belton workers who had been fired.
In corresponding with Ann, I asked her the whereabouts of a statue my family always passed on The Paseo (now Martin Luther King Street) near 60th Street. I remembered the statue depicting a firefighter holding a baby. Ann says the statue was at 59th and The Paseo AFTER it was moved from 15th and The Paseo. Its current location is in front of the Kansas City Police Headquarters, because it's a statue of a POLICEMAN and a baby, not a firefighter. Well, I had the baby right!
Please Join Us!
Belton Historical Society General Meeting
Sunday April 28th, 2:30 pm
In the meeting room behind the museum
Brief meeting, Program on Puppy Mills in Missouri, Refreshments