Posted by Jason W on Tuesday, 01 January 2019 at 11:00 AM
A Letter From Our President
Rob Powell
MIGRATION
We apologize for the late newsletter. We took a vacation in Snoqualmie, Washington. We were impressed by the businesses run by Indian tribes, which started me thinking about the First Americans.
The news has been full of information and debates regarding migration, particularly from lands south of the United States. Whereas some of us are resentful that migrants might take our jobs, resources, etc., others lament the fate of the Palestinians, who were forced to migrate from their homes (with the backing of a Missouri-born US president!) and still live in migrant camps in the Middle East. We agonize over the rights of others to their traditional homes, but do we agonize over the homes we live in that sit on former native American homes?
Everyone must answer for themselves. However, in my opinion, no one should make judgements without checking the history. Thousands of Europeans fled religious persecution and famine to the US, but were they forced by diversity (or greed) to push native Americans from their lands in Missouri and Kansas (and Mexicans from Texas)? Jewish Holocaust survivors were rewarded with towns in Palestine, but were they forced by diversity (or hatred) to push Palestinians from their homes? Central Americans flee violence and poverty to settle in the US, but will they be content with a 'roof over their heads', or will they desire more of our national wealth? And, have we settled our accounts with the Afro-Americans who we as a nation 'migrated' to the US and then stopped them from sharing our resources?
These questions have at least 2 common threads: people on the move (i.e., migrants) stir up unease and resentment on the part of the settled population; and each migration case has a different driver (famine, violence, racism…), including current conflicts in Sudan, Yemen, Northern Africa, Europe, Myanmar, … Do we side with the migrants (remember, we're talking about our ancestors), or do we side with the settled population? One thing is clear: neither your conscience nor your drinking buddy will accept your opinions unless they are based on facts.
How do you get these facts in the age of fake news? I've got computers, the Internet, and a Facebook account, but I think the best way to get facts is to read books and visit museums. There are several excellent books regarding the Jews and the Palestinians, including the Bible. None of them come to a conclusion about the existing Middle East problems, but nearly all of them can see arguments for both sides. Similarly, there are thousands of books on the US Civil War and the migrations that took place in the 30 years after the war (including the settling of Belton). Our museum and our 100-year Belton history book have excellent information about early settlers in this area, including early Indian tribes and segregated schools. The World War I museum in Kansas City has renewed displays that explain the conflicts that started the 'Great War', and the Truman Library tells the story of the start of Israel.
So, I challenge all of you to reflect on the future of our world by considering the past. At one end of the spectrum, will all land masses be equally populated with humans moving freely (pretty much wiping out the riches in countries like the US), or (at the other end of the spectrum) will we go back to a time where every people had their own land mass and aggressively fought migration (how far back was that?)? If you have this figured out, I'd like to hear from you.
By the way, if you live in Belton you're on Osage Tribe lands. You can visit their descendants in Oklahoma, where they were forced to migrate.
Happy New Year!
General Meeting—Sunday January 27th—2:30 PM
At the Museum
512 Main Street, Belton
The January Meeting of the Belton Historical Society will be held at the Museum at 2:30 pm, January 27th.
We will discuss the progress of the ramp entry way to the museum to be in compliance with the American With Disabilities Act. President Rob Powell will discuss all the events sponsored by the society over the Veterans Day weekend in November.
Our speaker will be Becky Fenske, President of Missouri Puppy Mill Rescue. Did you know that Missouri is the #1 state for puppy mills on the Humane Society's Horrible 100 list? Missouri Puppy Mill Rescue works with other organizations to assist in rescuing neglected, discarded small breed mill dogs. Learn what life is like for these beautiful female dogs whose only purpose on earth is to create puppies to be sold. The job of rehabilitating these dogs is huge, for their abuse is real. Medical needs are necessary to provide optimum health for the dog. Once rehabilitation is well on its way, the rescue group searches for a home where she can live out her life in peace and comfort.
Come and join us as we hear this fascinating story first hand! Be ready to meet a rescue dog, too!
If you are interested in helping, Becky indicates that her greatest need currently is:
Lysol Clean & fresh multi-surface cleaner
Paper towels
You may bring items to the meeting.
If you would like a sneak preview, visit the website:
https://www.mopuppymillrescue.org
Our Condolences
Belton and the Historical Society lost three wonderful people since we last wrote. We extend our condolences to the families of: Cliff Tanquary, Virginia Higgins Mosby and JoAnn Savage Mosby.
Cliff was a feature at all our general meetings and as a docent on Saturdays with his beloved wife, Bettie. Cliff was always ready to lend a hand at our events and fund raisers. Cliff was born February 1929 in Kansas City, MO. His family moved to Grandview when he was young. He served in the US Marines. He was married to Bettie Sue Groh for 62 years. He passed away in November, 2018. His wife, Bettie is a member of the Historical Society.
Virginia passed away November 7, 2018. She was born January 7, 1928 to Joe and Annie Higgins. She married the love of her life, Leo Mosby who preceded her in death January 1992. Virginia was active in girl scouts, ran the baseball concession stand, volunteered in the local hospital and was the first volunteer in the Belton Historical Society Thrift Store. Her son Jimmy Joe Mosby is a member of the Historical Society.
JoAnn was born September 1, 1929, in Topeka, KS, to Lucile and Fred Savage. She was a graduate of Belton High School and attended the Kansas City Business College. She was married to William J. (Bill) Mosby on April 2, 1948. She passed away Wednesday, December 12, 2018 at her home in Carnegie Village in Belton.
The Ramp
If you are a devoted Belton Historical Society member, you read ALL of the October 2018 newsletter, particularly the 5-year plan for the Society. The Society membership approved the 5-year plan at the October 28, 2018 general meeting.
The first item on the 5-year plan is construction of an ADA (Americans with Disability Act) compliant ramp at the front of the Belton Historical Society Museum. As you may know, the Society has no direct access to the museum at 512 Main Street for handicapped visitors. Currently handicapped visitors must make prior arrangements to visit, and engage the BCPI (Belton Community Projects, Inc.) staff to open access to a special ramp at 510 Main Street. The Historical Society board and the general membership considered this an inadequate response to our handicapped visitors and docents.
Pam and Rob Powell donated the cost of an architect's rendering of the ramp design. The architect did not complete the design until she had Belton's input (remember, the City of Belton owns the building). The Belton Planning Department determined that the ramp encroached on the property line – in fact, the building's existing steps and landing encroach!
After several weeks and our variance submittal, Belton approved the project. The draft design is currently under review by an ADA expert. After the design is complete, we will submit the project for cost estimates. We will need several fundraisers to afford this project. Stay tuned!
VETERANS' DAY ACTIVITIES 2018
The Society sponsored two events in November to honor our World War I heroes. As described in the October, 2018 newsletter, the Society sponsored a fund drive for a new commemorative plaque at the Belton Memorial Park to include 2 WWI servicemen who had been left off the original plaque. Their bios are printed below. Several Society members and other Belton citizens attended the new plaque dedication ceremony on November 10 in sub-freezing weather.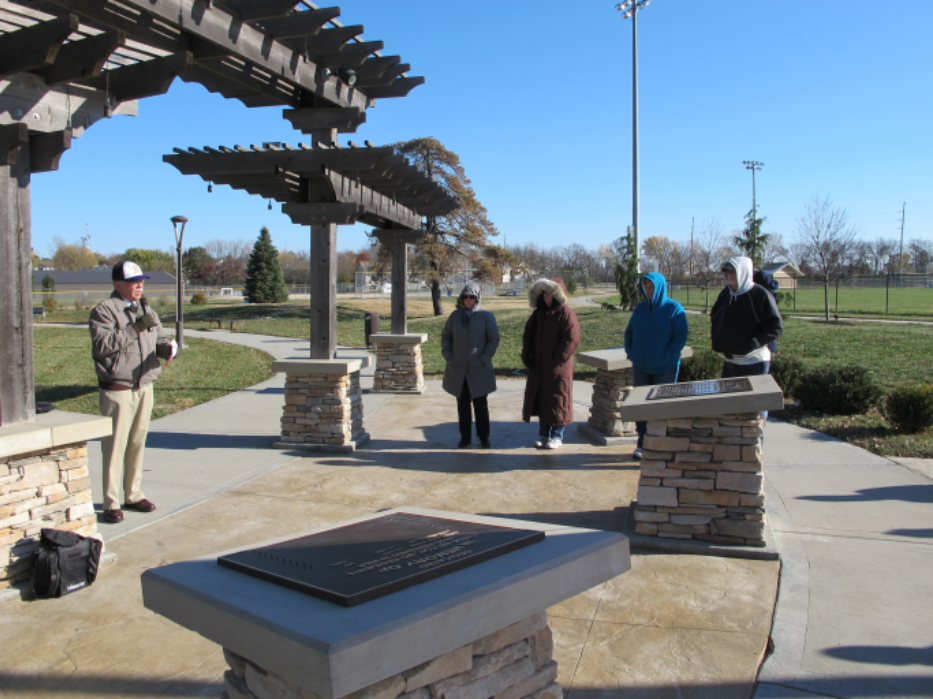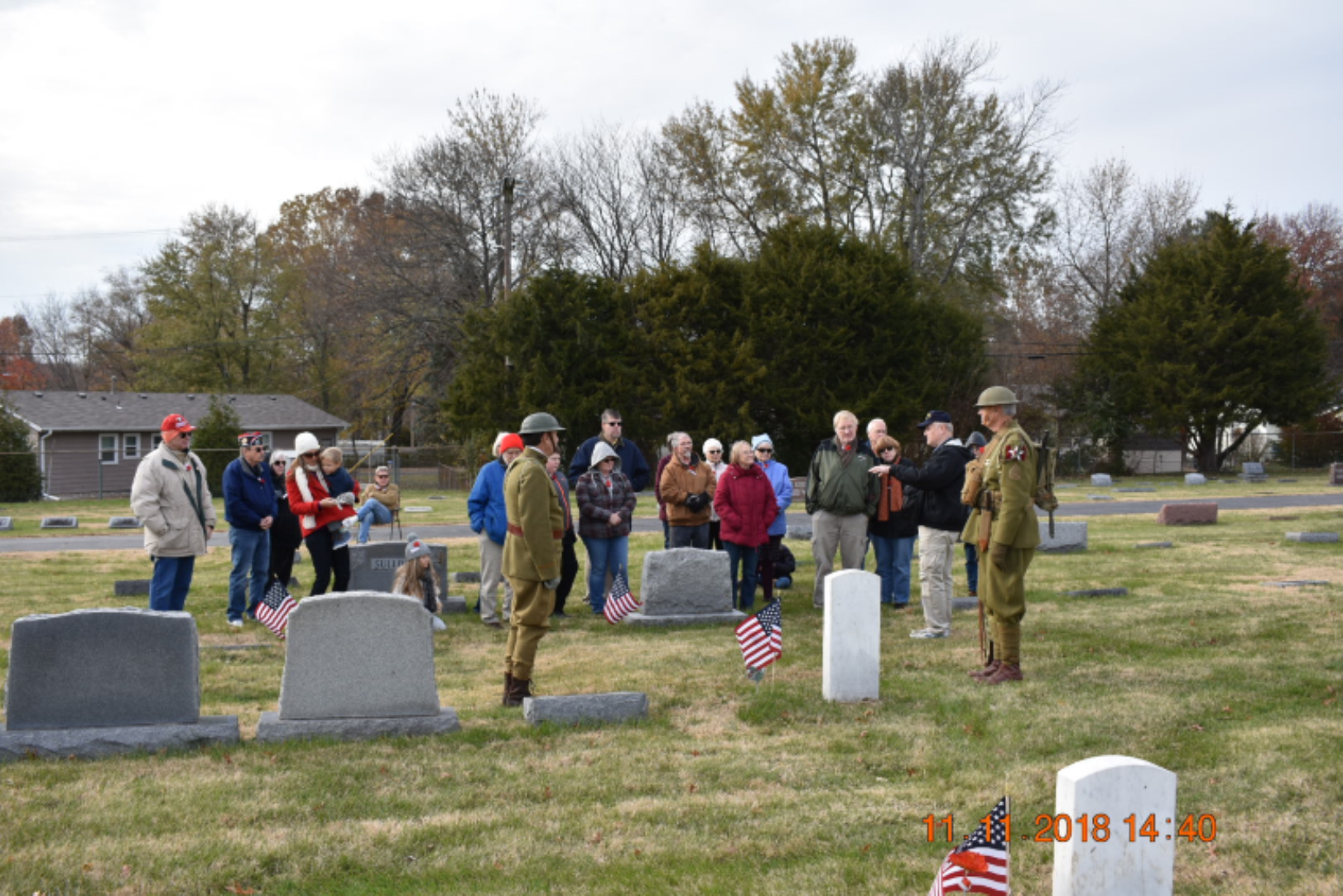 On November 11, Society member Woodrow Dick led a group of curious citizens through Belton Cemetery to view tombstones for Belton WWI veterans. Woody had help from two WWI re-enactors from southern Missouri, which added another layer of reverence to the day. The program included detailed information regarding WWI families that Woody has researched over the last several years. You can view some of these insights at: BeltonRemembers.org.
We still need more contributions to reach our $6000 goal to allow us to install a second veteran plaque and install pictures of the most recent additions to the list of Belton war casualties. If you would like to donate, please send a check to the Society with a note designating that the donation is for the veterans' memorial. Thank you!
Also, we have been unable to locate (even with Kibby George's help) a photo of Garnett Frank George. Photos of all of the other Belton heroes are displayed on the Memorial Station walls. If you have a picture, or even an idea of where a picture of Garnett George might be, please write us at beltonhistorical@att.net. Thanks!
SMN Garnett Frank George
Garnett Frank George was born in Belton on August 28, 1896, to Edward Kibby George and Jessie Mary (Garnett) George. A popular young man who was deeply involved in his community and church, George graduated from Belton High School in 1914. George continued his education, first with a postgraduate course at BHS and later at the University of Missouri. When war came in 1917, the first draft passed him by. Not willing to be left behind, George entered the Navy on July 27, 1918, and was assigned to the Great Lakes Naval Training Center in Illinois. Less than two months later, on September 14, 1918, George became a part of American naval history as one the first of hundreds to die in the Spanish influenza epidemic that wracked the Great Lakes training facility. At his funeral, the deeply-shaken citizens of Belton unreservedly embraced George as, in the words of the Belton Herald of September 19, 1918, "the first from this neighborhood to make the great sacrifice in the service of his country." The Herald added that attendees "filled the church and part of the lawn," noting also that the funeral cortege to Belton Cemetery was "one of the largest ever assembled in Belton."
Major James Henry Pillow
James Henry Pillow was born in Belton on August 23, 1899, to Albert Gideon Pillow and Jessie (Jacoby) Pillow. Pillow's father died five months after he was born but Pillow's mother remarried to Belton blacksmith Fred Ruch and Pillow apparently thrived in his new family. In March of 1917, with four years of Belton High School under his belt, 17-year-old Pillow told recruiters he was 19 and joined the 2nd Field Artillery of the Missouri National Guard. Although that regiment later became known as the 129th Field Artillery of the 35th Division, it has become best known as the regiment in which Captain Harry Truman served. Although slightly injured on October 2, 1918, during the Meuse-Argonne offensive, Pillow survived to serve yet again in World War II. Again Pillow survived and again he served, this third time with the Signal Corps in Korea. Major Pillow, whom the Belton Herald of August 9, 1917, called "a fine upstanding young soldier," died in Korea of "other causes" on February 3, 1954. Brought home to the United States, Major Pillow was interred with full military honors in Section 7, plot 10205-A of Arlington National Cemetery on March 16, 1954.