Posted by Jason W on Monday, 01 October 2018 at 11:00 AM
A Letter From Our President
Rob Powell
"Don't Wait for the Draft – Volunteer!"
This invitation from the US government was a recruiting slogan for World War 1. Apparently, this appeal rang true for Belton residents, because over 200 young men from Belton joined the armed services to fight "The World War" overseas. According to BeltonRemembers.org, over 100 of these men are buried in Belton Cemetery. Considering Belton's population was only a few thousand TOTAL in the early 1900's, we can be extremely proud of the patriotism of these Belton citizens.
The Historical Society is sponsoring 2 events to commemorate the sacrifices of these brave men (yes, so far we have not identified any Belton women who served in WWI) in November 2018, the 100-year anniversary of the end of WWI. These events are highlighted in another newsletter article below.
What can we do now to show our Belton spirit? Volunteer! How? Sign-up to be a docent; send us your family history or popular story; take on one of the projects highlighted in our 5-Year Plan (see related article); help us with our public events (Halloween on Main Street is around the corner); join a committee (museum, scholarship, research, ….); and DONATE!
Most of you are life members, and we appreciate your commitment to the Society. However, we hope that you can find a way to donate money that the Society will be needing for an entrance ramp, display case updates, newspaper digitizing, electronic displays, etc. (see the article on our 5-Year Plan). And if you haven't visited the museum recently, come by and see the updated Life Member board and our brand-new displays.
Don't wait for the draft – Volunteer!
World War 1 Commemorative Events
In earlier newsletter editions, we've described the Society's work to honor 2 Belton servicemen who were WWI veterans, casualties of US wars, and unfortunately left off the original Memorial Park Veterans' plaque. Garnett Frank George died during WWI, and James Henry Pillow died during the Korean War after also serving in WWI and WWII.
On Saturday, November 10, at 2 pm, the Historical Society and the Belton Parks and Recreation Department will unveil a second plaque at Memorial Station in Belton Memorial Park honoring these 2 Beltonians. We will invite veteran groups, family members, and, of course, the Historical Society. Please join us for this important ceremony. And, if you would like to contribute to the plaque construction, we are still collecting donations.
On Sunday, November 11, at 2 pm, the Historical Society and the Belton Cemetery Board will host a Cemetery Walk at the Belton Cemetery (starting at the flagpole). November 11th is the 100th anniversary of the end of WWI. Belton Cemetery has the graves of many WWI servicemen, each with a unique story. Woody Dick, Historical Society member and editor of BeltonRemembers.org, will provide the 'color commentary'. The walk will not be strenuous or longer than ½ mile. We think you will be surprised at the background stories of each grave marker, and impressed with Belton's contribution to ending "The Great War".
General Meeting—Sunday October 28th—2:30 PM
Change of venue:
Meet at the Historic Belton Presbyterian Church
122 Main Street, Belton
Quick: What building on Main Street is older than our very own "Old City Hall"?
Answer: The building currently belonging to the Belton Presbyterian Church was completed and dedicated by the Belton Christian Church in 1895.
For our October general meeting, we will gather at the Belton Presbyterian Church at 122 Main Street, Belton. There is plenty of parking available on Main Street and Cherry Street. There is a ramp available in the front of the building for those not able to use stairs.
Per the bylaws of the Belton Historical Society, the slate of officers and board members will be presented and voted upon. In another article, the slate is presented to you for your perusal.
Program Chairperson Pam Powell will present the program. Although the Christian Church vacated the building many years ago, the Presbyterian Church has just celebrated 50 years in the beautiful church.
Janna Dillon promises to bring along our favorite fall treat, donuts and cider! And as she has in previous years, Connie Harris has generously donated money to help pay for the refreshments.
Come and enjoy a lovely fall afternoon with us!
Nominating Committee
The 2019 Nominating Committee was chaired by Jackie Kreisel. Per bylaws, two members of the Board of Directors were on the committee, Karen Calvert and Nancy Clutter; two members of the general membership were on the committee, Wanda Kiefer and Bill Brady.
Below is the entire roster presented. Names posted in BOLD type are the newcomers to the position. Names in regular type are fulfilling a term in office.
President: Rob Powell
1st Vice President: Ed Maurer
2nd Vice President: Pam Powell
Treasurer: Janna Dillon
Recording Secretary: Sally Smith
Corresponding Secretary: Elaine Wilson
Membership Secretary: Evelyn Tabor
2019 Board
Jacquie Jackson
Debbie Maurer
Karen Calvert
2020 Board
Renee Kerckhoff
Jackie Kreisel
Bill Brady
2021 Board
Charlotte Bradley
Joe Robertson
Jared Rinck
We want to take a moment to thank those who have served on the Belton Historical Society's Board of Directors who are going off the Board this year: Darin Jones, Nancy Clutter, Sherry Durham and Linda Jo Wilbur.
Ice Cream Social and Scholarship Awards
During our ice cream social we were treated to the delightful singing voices of Belton native, Nikki Williams and her mother, Linda Majors. Old American favorites and show tunes were performed and many of our members were singing along! Our fund raiser raised $688 for our 2019 scholarships. Thanks to all for contributing!
We were honored to have the 2018 scholarship recipients attend our meeting to receive their scholarship checks! We wish them the greatest good luck in their studies as they go into the world, representing all the good things we love about Belton.
Trick or Treat on Main Street
Once again, the Main Street Merchants will sponsor Trick or Treat on Main Street. This event will take place Saturday October 27th from noon to 3 pm. Traditionally we have asked for donations of candy to be brought to our general meeting, but this year our meeting date is AFTER the event. Please take candy donations to the museum between 10 am and noon on Saturday, October 27th. Rob and Pam Powell are the docents that morning, and they will enter your name into a drawing to see their Christmas production of A Neighborhood Noel at Main Street Theater.
We would love to have your help to pass out candy to the children. We also have pencils and puzzles to pass out to those not wishing to have candy. We will have the hearse out on the street to teach about Carry A Nation and about her last trip in Belton to the cemetery!!
Thanks so much for supporting the Museum as we reach out to our Main Street community and neighbors.
Raymore Historical Society Fund Raiser for New Location
The Raymore Historical Society is moving their museum in 2019 from the Cullen Funeral Home basement to a permanent location in a house at 103 South Washington. Although the property was purchased in 2017, the renovation costs exceed $100,000.
The museum has many unique artifacts, including:
a flag carried by the Grand Army of The Republic
wedding dresses dating back to 1911
military artifacts and uniforms dating back to the Civil War
a 1901 rural mail delivery buggy
If you would like to donate to our sister organization, please mail to:
Raymore Historical Society, P.O. Box 1483, Raymore, MO 64083
If you have questions, please call: Renee Kerckhoff at 816-813-5162 Thanks!
Condolences
We offer our condolences to Mona and Judy Snoderly, and Denise (Snoderly) Grow on the death of their mother, Lois Snoderly, on July 20, 2018. Mrs. Snoderly attended many of our programs, and helped her daughters set up the museum/carriage house Christmas displays every December. The Snoderly sisters grew up in Belton, and have been actively involved in the Society, our board, and providers of unique Belton history.
Museum Construction Work
As you drive by 512 Main Street, look briefly to the left and notice the new coat of paint on the carriage house. The carriage house windows were also 'siliconed' to prevent water leakage into the front interior wall. Water damage caused by a leaky museum roof was also repaired and repainted after the museum roof repair (completed last December). FYI, Belton Community Projects, Inc. (our landlord), Main Street Theater, and the Belton Historical Society are partnering to keep the Old City Hall property in good shape!
Don't forget our Quarterly General Meeting!
Sunday, October 28th at 2:30 pm
Change of venue: Belton Presbyterian Church, 122 Main Street, Belton
General membership meeting including elections of Board members, Program on historic church, Refreshments.
Our New Museum Displays
During the 2018 year, our Museum Committee dedicated their efforts to improving and changing many of our exhibits. One of the saddest things our docents hear from visitors is, "I was here a few years ago, and nothing has changed". Under the leadership of Jackie Kreisel and Karen Calvert and beginning with our January program by Belton Assistant Fire Chief, Chris Beal, we have gradually developed new displays. We sincerely thank the following members for their tremendous response for new artifacts for the museum.
Belton Fire Department: Christopher Beal and some items already in our collection.
Belton Police Department: Linda Blum Medlin.
Desert Storm and Enduring Freedom in Afghanistan: Cary Gum-Costa contributed her Army shirt, dog tags and photos.
Belton Sports: Jimmy Joe Mosby, Greg Kreisel, Barb Kreisel, Faye Wallace, Rob Powell, Evelyn Tabor/Mary Ann Tabor, Karen Calvert. The list of these generous donations is too long for this newsletter, you simply MUST visit the museum!
We also thank Bill Brady, Rob Powell and Jackie Kreisel for cleaning the carriage house. Thanks to generous memorial donations from Pat Calvin and Rob and Pam Powell, we are receiving new display cases for the carriage house for the Carry A Nation exhibit and the Dale Carnegie exhibit.
Photos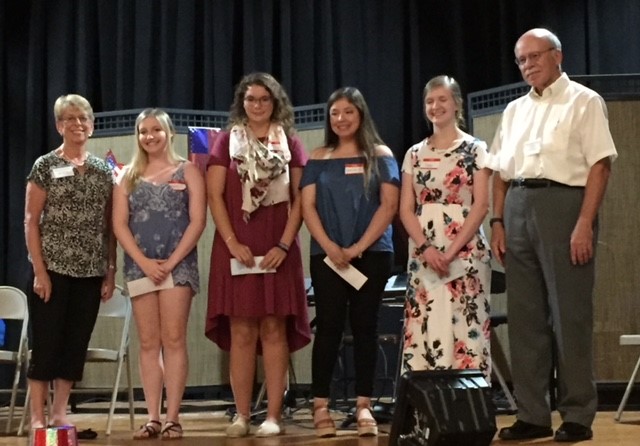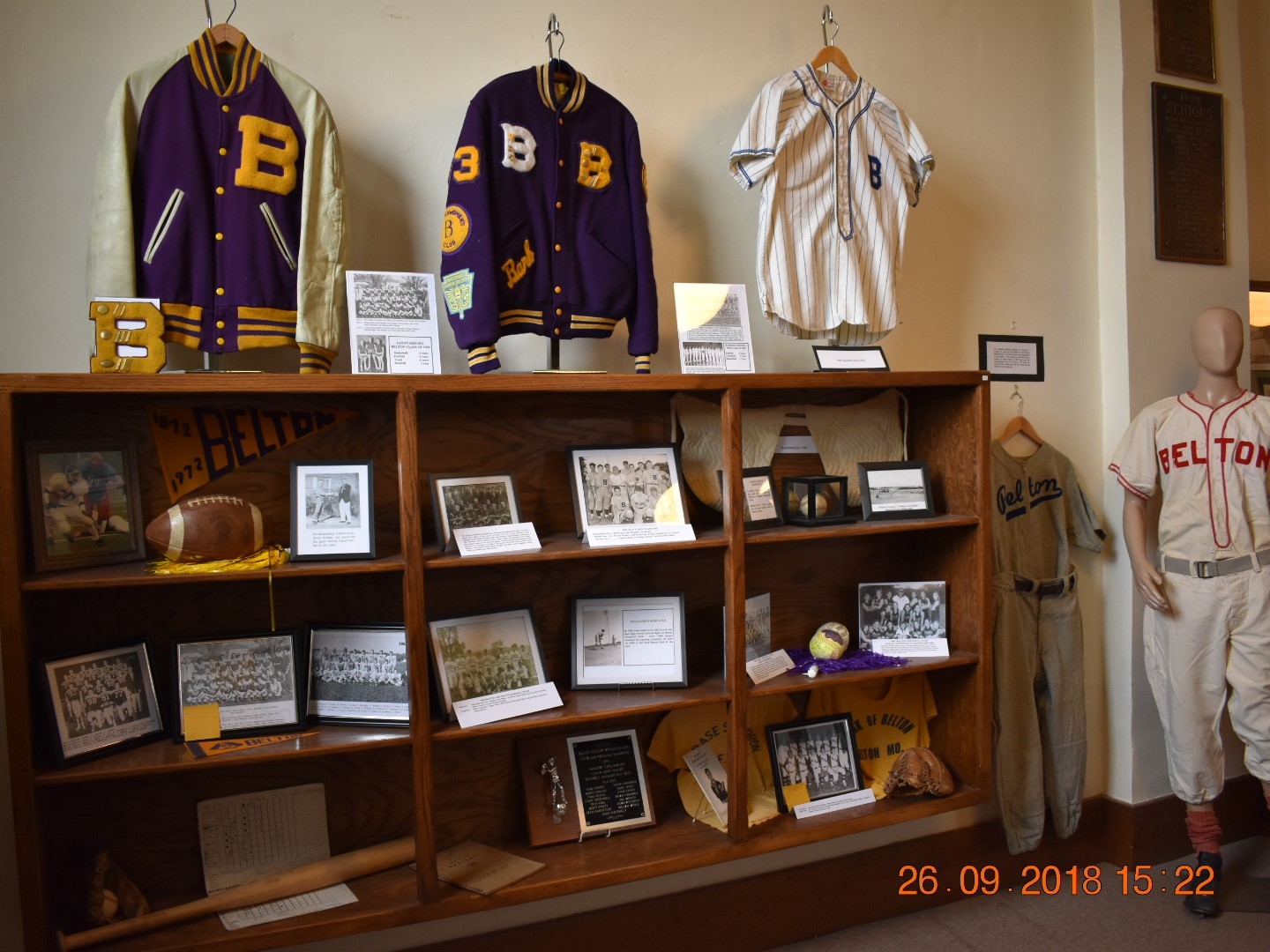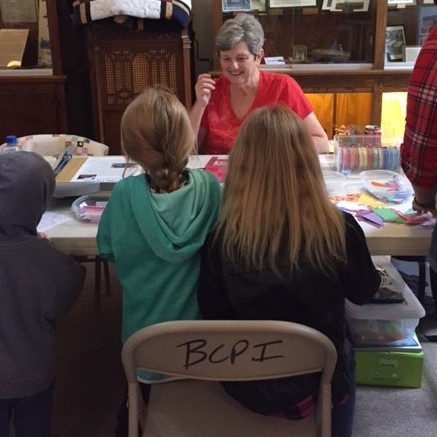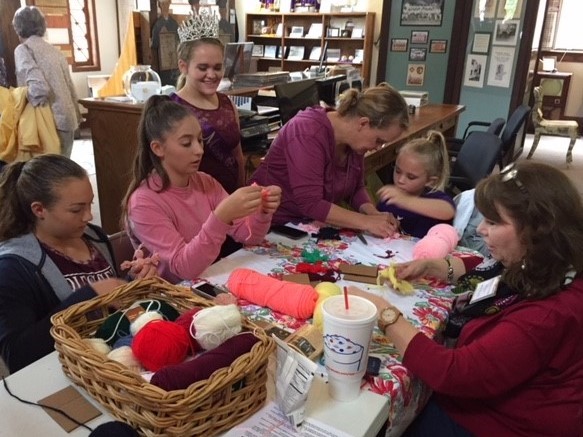 Steering Committee Develops Draft 5-Year Plan
After revising the Society's by-laws in 2017 (a copy is on our website https://www.beltonhistoricalsociety.org/bylawsandleadership.php), the Steering Committee developed a 5-Year Plan for the Society in 2018. The draft Plan, which is available upon request (e-mail request to: robpowell@sbcglobal.net), aligns with the Society's
1977 Purpose Statement:
to bring together those people interested in history, and especially in the history of Belton and the surrounding area;
to discover, collect and research artifacts, documents and material relating to the early history of our area and to record historical information of the present (examples have been edited out for brevity in this newsletter);
to provide for the preservation of such material and for its accessibility as far as may be feasible, to all who wish to examine or study it;
to make the public aware of the historical information gathered, engendering rightful pride in the history of Belton, Cass County and the State of Missouri (examples have been edited out for brevity in this newsletter);
to cooperate with other associations having kindred interests, and with the State Historical Society of Missouri.
The top 10 items in the 5-Year Plan are:
construct a handicap-accessible ramp leading to the front door of the museum
publish an addition/update for The First Hundred Years, the Belton history book last revised in 2005, for the 150th anniversary of Belton in 2022
install electronic enhancements (video, hand-held microphones, etc.) for certain displays
occasionally feature one Belton family in a display with pictures, a historical article, and a reception for nearby members
digitize the Belton Star Herald newspapers, which are deteriorating in the carriage house and taking up a large amount of storage space
sponsor a local archivist (preferably a local college student) to consider our collection for organization and unique displays
feature Belton High School Hall of Fame members in a rotating display
attach a Belton time-line and pictures of Belton features onto the upper walls of the museum
collect oral histories from 'old-timers' and develop a creative way to present them
develop a rotating display on contemporary and historical Belton issues (elections, crime, downtown businesses, etc.)
Constructing a ramp is the #1 goal for the Committee. The other 9 items above are not in priority order, nor are they strongly separated from the other 20 items in the complete draft Plan.
If you have more ideas after reading the complete plan, please send them to robpowell@sbcglobal.net. Meanwhile, the Plan will be officially confirmed by a vote of the general membership at the October meeting.
Of course, none of these items will be accomplished without YOU volunteering to help!
2018 Fall Festival
Beltonians faced a very rainy and dreary weekend for the annual Main Street Belton Fall Festival. Perhaps because our building was an indoor haven, we welcomed many visitors to our buildings and many children to the activities available. Jackie Kreisel deserves a pat on the back for all her work to prepare a special day for our visitors!
The following members of the Historical Society gave generously of their time: Fred and Irene Buchanan, Janice Glendening, Bill Brady, Faye Wallace, Norma Nelson, Bob and Nancy Clutter, Karen Calvert, Renee Kerckhoff and Betty and Joe Robertson. Don Peters spoke with guests about the Sloan-Tribby log cabin recently discovered and soon to be rebuilt (in Memorial Park). Bill Brady, Chris Beal, and Rob Powell moved the Carry A Nation hearse from the carriage house to the street. Elaine Wilson organized items and instructions for "old fashioned" games which the Calvary University students conducted. Elaine also worked with children to make kites and yarn dolls. Jackie Kreisel always teaches children about quilts and helps children design a quilt block. We hope that everyone visiting the museum enjoyed the time spent with us and that they will consider working with us in the future.