Posted by Jason W on Thursday, 12 July 2018 at 11:00 AM
A Letter From Our President
Rob Powell
Politics 2
We recently returned from a trip to New Jersey for a family wedding. One free day we toured "real" historical sites of the Revolutionary War near Morristown (NJ). One display at Washington's Headquarters, where George Washington and his troops (10,000) spent the 1779-80 winter, claims that even though there was a severe shortage of housing (Morristown had a population of ~ 2000), Washington insisted that his officers get homeowners' approval before taking over their houses for troop quarters for the winter. Later in the winter (the worst on record, with 5 snowstorms each producing > 1 foot of snow), a smallpox breakout convinced Washington to get inoculations for his troops, saving most of them from sickness and death. Unfortunately, when Washington offered inoculations to the Morristown residents, most refused and over 50% of the local population died.
Contrast this with Thomas Ewing's Order No. 11, which we are all familiar with (if you aren't, it's time for a visit to the Belton Museum!). The government did not ask before taking over homes, farms, and livestock (yes, Abraham Lincoln concurred with Order No. 11), did not offer transportation, food, alternative housing, or medical help for the refugees of the Order. Hundreds died, and it's currently claimed that the level of development in the 4-county area affected is still lacking compared to surrounding areas.
What's the point? First, even though 'everything is fair in …war" we can see the reaction of 2 government leaders to an immediate tactical problem. It's actually possible that without Morristown (a natural high point west of the Hudson River) as a winter layover for Washington's troops, the British army in New York could have overrun the American Army in the next spring campaign. Even so, Washington insisted on ASKING Morristown residents for housing, more than a few who were loyalists and still supporting King George's troops. In contrast, why didn't Ewing ask, or give aid to those fleeing? Why did Washington offer life-saving inoculations and Ewing make the deserted land free to the Jayhawks?
In my opinion, it comes down to leadership AND the mind of the population. We can do something about leadership every time we vote. We are now (according to President Trump) in historic times and we need to take a second to consider how we would have reacted when offered inoculations or told to leave our property. Are we a population that approves putting innocent children in cages with no paperwork link to their parents? Are we a population outraged enough at school shootings that we want to end them? Are we a population that shares with the homeless in our communities and refugees in other countries, or are we a population that avoids 'others' at all costs, including border walls, reduced United Nations funding, …?
When we consider these personal reactions, let us remember (since we do belong to a historical society) what has happened in our country's history and draw some lessons for help in making our own decisions. If we don't, "Those who cannot remember the past are condemned to repeat it." (George Santayana).
Mark Your Calendar!
JULY 22, 2018
Doors open at 2:00 pm
(note time change)
Call to reserve your seat!
816-322-3977
A MUSICAL AFTERNOON OF AMERICANA!
SCHOLARSHIP FUND RAISER!
Join the hot summer fun with the second annual Ice Cream Social at the General Meeting on Sunday, July 22nd. This year we are again asking for a $5.00 donation from everyone to begin our fund raiser for next year's scholarships!
We will enjoy an afternoon of music by local singer Nikki Williams and her mother Linda Major as they perform beloved American songs. Both Nikki and Linda have performed together and alone since each was a toddler! Nikki is a Belton native and you may have enjoyed her as "Aunt LaMerle" in Main Street Theater's production of The Red Velvet Cake War. Linda Major served as accompanist for the Belton High School for 15 years. These accomplished musicians have been entertaining folks for many years!
We will have a brief business meeting and celebrate with the 2018 Scholarship recipients. Karen Calvert and the scholarship committee are eager to share the good news about the students the Historical Society is supporting.
RESERVATIONS ARE STRONGLY URGED!!! Leave a message on the museum telephone number with your name and the number in your party! This phone only takes messages, you must leave a message. We are limited in seating to 67 guests. If you don't make a reservation, we will seat you last if there are seats available.
All Class Reunion
The 2018 Belton High School All Class Reunion & Hall of Fame Induction Ceremony will be held on August 4, 2018 at 12 noon – 2:00 pm. Doors open at 10:30 am. Lunch will be served at noon followed by a program and induction of the 2018 Hall of Fame members.
Tickets may be purchased online at the Belton Education Foundation website or at the door. Tickets are $18.00, or at the door for $20.00 (early bird time period ended July 1).
This annual event will be held at the Belton Middle School and Freshman Center (Old High School) at 107 W. Pirate Parkway.
In The Mail
Following our January newsletter, we received a nice letter from Wanda Tarpey. Her grandmother, Ona C. Wyatt (Mrs. George Wyatt) was a member of the Dorpha Club. Her maiden name was Wallinford. "You are correct that it was a social club that met once a month in members homes." Some family names that Wanda remembers are: Sams, Laurence, Pearce, and Turner. There was also a Dorpha Daughter's Club. Interesting! Thanks for writing, Wanda!
Belton's Fallen Veterans
In the April 2018 newsletter we reported a petition by Belton Historical Society members to add 2 Belton veterans' names to the plaque and picture wall at Memorial Station in Belton Memorial Park. Using Woody Dick's research, Rob Powell, Bill Brady, and Woody met with the Belton Park Board several times, and in April 2018 the Board voted to add 2 additional plaques and stone stands. One of the plaques will include the 2 recently found names, James Pillow and Garnett George, and the second plaque will list the donors to the project. Each plaque will be designed to accommodate more names if necessary. Below is a picture of the current plaque and stand – the 2 new plaques and stands will be on either side of the existing stand.
The Park Department has no budget for this, so they left it to the Historical Society to come up with donations for the project. We have budgeted $3000 for each plaque/stand (total = $6000), including $2000 for each plaque, $500 for the Park Department to construct a stand, and $500 for framing and posting a photo of each veteran for the Memorial Station wall. The Park Board will allow us to proceed with the first plaque (containing the veterans' names) when we have accumulated the first $3000. Currently we have collected $2000 from Woody & Leslie Dick, Rob & Pam Powell, and the ExxonMobil Foundation.
Would you like to contribute? If so, please send a check to Belton Historical Society Veterans' Plaque. The address is PO Box 1144, Belton, Missouri. We can't guarantee that your name will be on the second plaque, but we'll do everything possible (write small!) to honor your contribution. And, there WILL be a ceremony!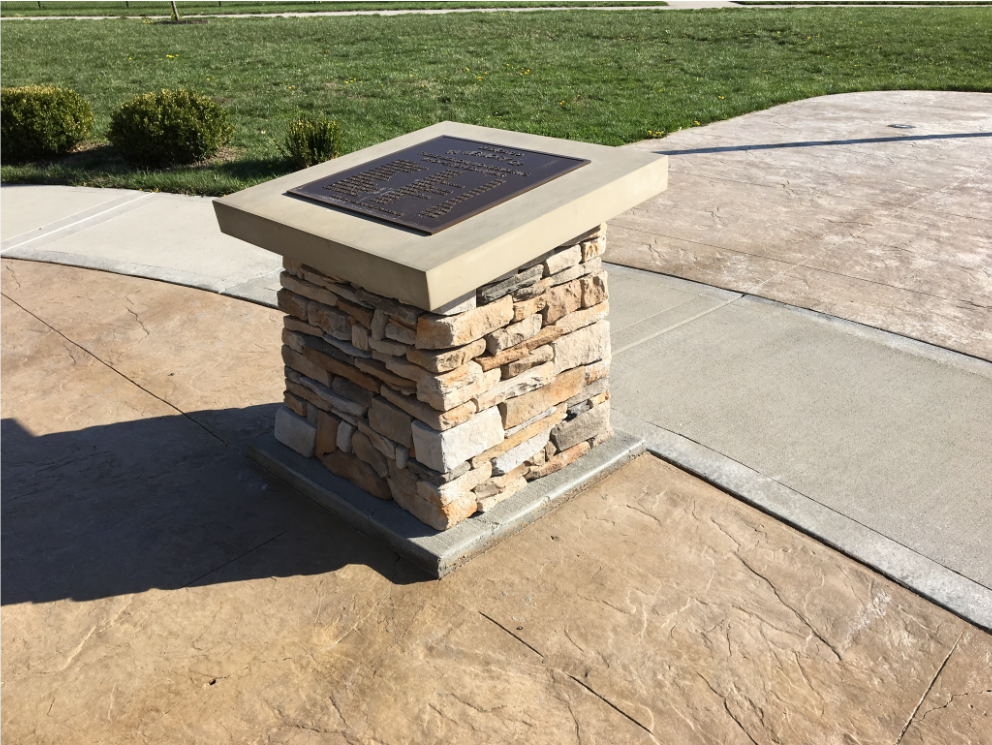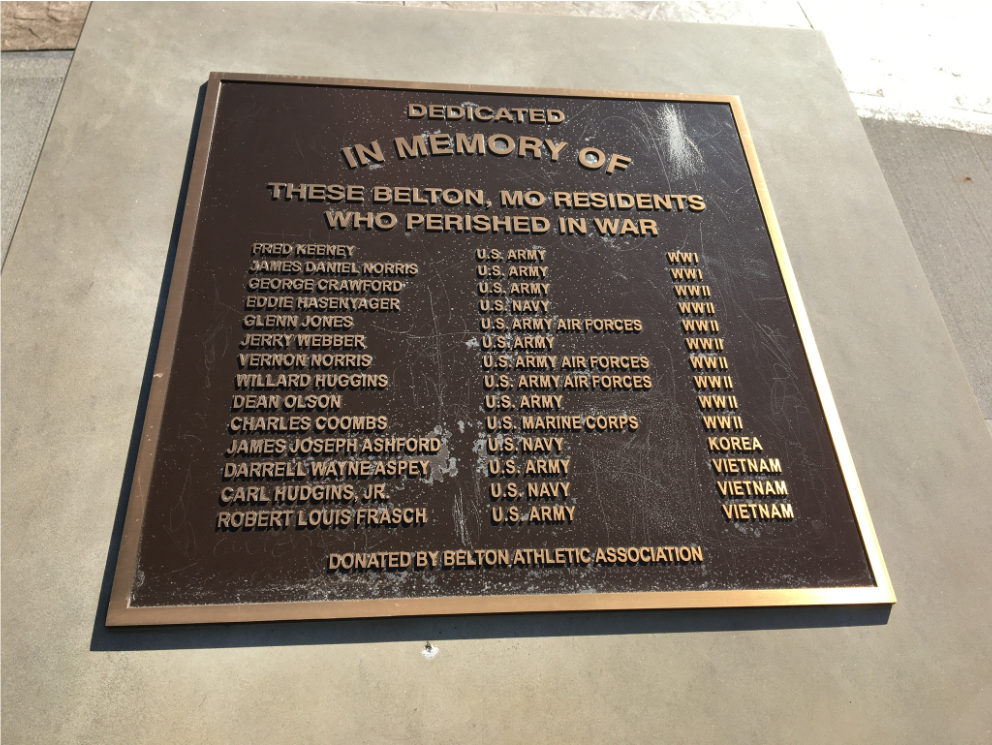 Thank You Main Street Theater!
Main Street Theater is the new community theater in Belton and during their shows, they try to help non-profit organizations in town. During the June 2018 production, The Kitchen Witches by Caroline Smith, MST sold the Belton Historical Society's 2015 cookbook. By doing so, they helped us reach others with news of the Museum!
Member Opportunities
We continue to de-centralize the Belton Historical Society hierarchy, i.e., pushing work into committees and depending on the board more for over-sight of committee work. The bottom line is we need your help with:
Joining a committee (or suggesting a new one) - you don't have to be in Belton to work on most of our committees!
Bringing your friends to our quarterly meetings
Contributing your $ and time for Society activities
Becoming a Life Member
Sending in stories about old times in Belton
Becoming a docent!
Donating historical items when you clean out your attic or basement
Passing along this newsletter to your relatives and neighbors when you're done reading it
Call or write me if you can help. THANKS! Rob
Old City Hall
Built in 1906, the building at 512 Main Street has housed a community hall, movie theater, basketball gym, clothes factory, fire department, police department, city government, library, chamber of commerce, events room, performance theater, and probably twice as many other venues. Currently the front ½ of the building contains the Belton Historical Society Museum (512 Main Street), and the back ½ houses the Main Street Theater (510 Main Street). The building is owned by the City of Belton and is managed by BCPI (Belton Community Projects, Inc.), a non-profit group formed in the 1970's when the Belton city fathers wanted to tear it down for a parking lot and a group of citizens volunteered to preserve it. The site also includes the carriage house.
For a building 112 years old it is in surprisingly good shape. However, within the last 6 months BCPI, with the Historical Society's help, has had to replace 2 air conditioners, repair the roof, and fix water intrusion and water damage. In the theater portion of the building, Main Street Theater and BCPI have redone the basement into a backstage dressing room, added lighting and curtains for live performances, reconfigured the kitchen to accommodate a tech booth, and brought the bathrooms up to ADA (American with Disabilities Act) requirements.
However, there is much more to be done. We are committed to fixing the last of the water damage caused by the leaky roof, repainting the carriage house, and further modernizing the theater. Although it isn't official, the Historical Society Steering Committee has set as its number one priority for the next several years adding a ramp for easier handicap access to the Museum.
Log Cabin Update
Unfortunately, we don't have much news about the cabin. As you may recall, a well-preserved log cabin was recovered from a house west of Freeman. There is strong evidence that the cabin was the site of the decision (not the signing) to put Order No. 11 into effect. The Belton Museum currently has a display loaned by Don Peters that describes the history of the cabin and shows various construction materials.
Don and the Cass County Historical Society offered the log cabin to the Belton Park Board, and the Board approved reconstructing the cabin in Belton Memorial Park. Shane DeWald of the Park Department held several community awareness meetings in 2017, and the cabin opening in the park was loosely scheduled for June 2018. In Spring 2018 Shane changed jobs to work for the Overland Park, Kansas Park Department and the cabin project slid to a halt.
Currently the cabin logs have been moved from a farm near Harrisonville to a storage facility at Belton Memorial Park. However, the foundation for the cabin has not been started, and a fund-raising campaign has not accumulated nearly enough money to fund the construction project. In fact, things are so "up-in-the-air" we cannot give you a name and destination for any donation you would like to give toward the project. Stay tuned.
Charles and Mable LaMar
I am always asking for family stories, and I claim that the Historical Society has a Research Committee, so we appreciated a recent note from Linda Walker of Michigan asking for "the address and directions to a home my grandparents built and occupied for many years up until the 1950's. They were Charles and Mable La Mar, and their home, 'Bide-a-Wee', was
at the end of a country road I'm pretty sure passed a La Mar cemetery and an upside-down tombstone, meant to mark a traitor. The cliff at the foot of their property was supposedly once a hangout for the Dalton Brothers. But the tomb on the road with something upside down on it, marking a Civil War traitor? I thought that might ring a bell. The cemetery where a lot of La Mars are buried is Bryant, and you go past that on the way to my Grandparents' house. Their son, Charles G. La Mar who just died at 97, graduated from Belton High School, which might be a place to start for an address."
After several drives past the Bryant Cemetery (west of Snead's and Holmes Road) and up-and-down South Rolling Hills Road, we could not locate any house similar to Linda's description. We contacted Faye Wallace, Elmer Larkey, and Woody Dick who directed us toward 'Booger' LaMar and the general area west of Holmes and south of 172nd Street. Finally, we contacted Jay Roberts of the Cass County Civil War Roundtable, who has a family cemetery on South Rolling Hills Road and remembered the house at the end of the road in the woods near a stream. We have not found the house, but apparently it is no longer on a road and is probably dismantled (a house at the end of Rolling Hills Road is obviously a 2000-era building).
Linda has purchased copies of our "100-Year Book" for her grandchildren and made a donation to the Historical Society. We are mailing out the books to her relatives and THANK YOU Linda for your donation!
Footnotes
At our April 2018 meeting, Speakers Bill and Karen McLanahan owners of Home Grown Honey in Archie, MO, presented a wealth of information about bees and their important role in the cycle of life, pollinating fruits and vegetables and making farming possible as we know it today. We learned also about the business of beekeeping and honey production. Later, in the Kansas City Star there was an article about how the European Union has banned all pesticides that harm bees and their crop pollination. Bees really must be protected from pesticides.
At our October 2017 meeting, we learned about customs around the world regarding death and dying. We had a lively discussion about "green" or natural burials. The New York Times later published an article saying that the benefits of natural burial saves "20 million feet of wood, 4.30 million gallons of embalming fluids, 1.6 million tons of reinforced concrete, 17,000 tons of copper and bronze, and 64,5000 tons of steel. Green burials simply wrap the deceased in shrouds made from a biodegradable material and placed in the ground." Our discussion focused on the spread of disease if a body is buried naturally, and the article said that the embalming process is more "of a cosmetic procedure than a public health safeguard".
Obituaries
One of the most requested items for our newsletter is obituaries. While we understand the desire for such information, we found we were becoming ONLY an obituary newsletter. Our goal for news to our members is to learn as much about our current organization and the history of our area. Approximately 2 years ago, the decision was made to include obituary notices of Belton Historical Society members, and in this issue we also include one notice of historical significance. We would refer our readers to the North Cass Herald for obituaries. Allen Edmonds is the Editor/owner of the newspaper and a LIFE member of the Belton Historical Society. The telephone number for the North Cass Herald is 816-322-2375
Dorothy Ellen Wise Looney, 94, died peacefully May 4, 2018, at her home on Pine Island, FL. She was born on September 23, 1922 to Jesse James Wise and Adela Knecht Wise. During the 1940s and 1950s she taught English at Belton High School. Her Belton family home currently houses the Senior Center in Belton Memorial Park. The internment was at Coral Ridge Cemetery, Cape Coral, FL. We are very grateful that in lieu of flowers, the family suggests donation to the Belton Historical Society.
Margaret Macon Van Brunt Rymar of Santa Fe. NM died on March 3, 2018. She was the only daughter of Grace Wilson and John Van Brunt. Her maternal great-grandfather, George W. Scott founded the city of Belton, MO. Her mother, Grace Wilson Van Brunt, was the founder of the Grace Company, a once famous company in Belton known for its original children's clothing.
Docents
To all our Docents, please remember that the 2018 chairperson for the docents is Jackie Kreisel. If you are unable to work your shift, it is your responsibility to call other docents and make arrangements for one of them to work your shift. It is often easy to swap shifts so that every day the museum is scheduled to be open, it is! We are never happy to hear from disappointed visitors that they were unable to visit on a day we were supposed to be open. Questions?? Call Jackie Kreisel at 816-331-1571.
Oops, We Did It Again
We are deeply sorry that we made the same mistake twice. Karen Calvert's father's name was incorrect in the April newsletter. Karen's father was Gwynne Coomes, Jr. He was the Coach at Belton High School in the fifties.
Don't forget our Quarterly General Meeting!
Sunday July 22nd at 2:30 pm (Doors open at 2:00 pm)
Join us at our second annual Ice Cream Social and Scholarship Fund Raiser!! We recommend calling the museum at (816) 322-3977 and making a reservation. Seating is limited!! Due to fire regulations, we must limit seating to 67 people. Don't be left out in the heat!! Come and celebrate with our Scholarship recipients!!
PLEASE CONTINUE YOUR SUPPORT OF THE SOCIETY'S WORK BY MAILING YOUR 2018 DUES. THANK YOU