Posted by Jason W on Monday, 01 January 2018 at 1:00 AM
A Letter From Our President
Rob Powell
I hope everyone had a Merry Christmas or Happy Hanukah or Happy Kwanzaa or Kul 'am wa enta bi-khair, or other happy holiday pertinent to your faith. And, I wish everyone a very happy and successful 2018!
Yes, I am still the president of the Belton Historical Society for 2 more years. The October general meeting attendees voted for the slate of officers proposed by the nominating committee (chair: Jackie Kreisel). You can see the other officers on the last page of this newsletter. You will notice one director name is missing – this vacancy was caused by Evelyn Tabor volunteering to become the newly approved position of Membership Secretary and giving up her spot as director. Thanks Evelyn! Now, if you would like to volunteer to fill this director slot, please get in touch with me.
I am very proud of the Society board and the Museum docents for what they accomplished this year:
More new memberships There were 17 new (not previous members) memberships this year, up from the last several years.
More new life memberships 7 new life memberships, again, up from the last several years (life membership is now at a record 168).
Museum visitors Hundreds of visitors toured the museum in 2017, including over 700 during the Belton Fall Festival. Most visitors were there for the first time.
Community interaction The Society participated in the Belton Fall Festival with rope-making, quilting, candle-making, and weaving demonstrations. The Carry Nation hearse was an added attraction on the Main Street curb. We also entertained hundreds of children at Halloween on Main Street with Carry stories and lots of candy (thanks for your donations!). Work with the Belton Department of Parks and Recreation is leading to unique opportunities to lead educational sessions at the soon-to-be-installed pre-Civil War log cabin.
Finances The finance committee transferred $100k to a group of mutual funds to take advantage of the good stock market – earnings are covering our 2016-17 budget shortfall. The endowment fund is still, per the bylaws, in an insured account.
Scholarships We chose 5 outstanding Belton High School seniors for $1000 scholarships, and the board agreed to commit $5000 to 2018 scholarships.
Steering An ad hoc steering committee updated 10-year-old bylaws, adding a membership officer and allowing electronic voting.
Research All stored museum artifacts were organized in anticipation of providing more display opportunities and cataloguing for all our items.
Education Four Belton High School students worked with us to modify and update several museum displays after the students performed research on bits of Belton history.
Programs We presented 4 outstanding general meetings, including our first radio play.
Executive In conjunction with BCPI (Belton Community Projects, Inc.) we repaired the Old City Hall roof. We also replaced our air-conditioner compressor. Work continued toward a computerized inventory of all our holdings. In July, during a visit from State Senator Ed Emery, we raised a new US flag and a new Missouri state flag in front of the Museum.
Fund-raising Our July general meeting featured a ice cream social that brought in $600.
Audit A comprehensive financial audit found only minor procedural items that needed correction. Overall, the Society is in excellent financial health.
Board Members We lost one of our long-serving board members, Dodie Maurer, last spring. She is sorely missed.
All the above accomplishments were the result of many hours of member service. We can't keep the Museum open or maintain a Historical Society without volunteers like you. PLEASE join us in 2018 to accomplish goals for education, scholarship, museum displays, and Belton history research (including starting an update to the 2005 Belton History book). And…we would love to have your recollections of Belton history for our collections and the newsletters. Please join us!
Mark Your Calendar!
January 28th
2:30 pm
Our program will be presented by Belton's Assistant Fire Chief, Christopher Beal with assistance from new museum member, Martha Frasher. The focus will be the history of the Belton Fire Department. So many of our Historical Society members remember the days of one fire truck serving the entire community parked in the Old City Hall! Many of you will remember the names of those who proudly served. Join us for an interesting program.
We will recognize all our docents at the meeting and present a token of appreciation for our 2017 Docents. We hope all will make plans to attend the meeting.
In the event of inclement weather, call the museum telephone and listen to the outgoing message. If the meeting is cancelled the outgoing message will inform you. The museum phone number is 816-322-3977.
An Invitation!
Did you know that our Board member, Renee Kerckhoff, also serves as the President of the Raymore Historical Society? Some of you remember Renee by her maiden name, Rudroff. Renee has invited the Belton Historical Society members to attend the Raymore Historical Society's meeting on Tuesday, February 13th at 7 pm. The meeting is in their new Centerview Meeting Space at 227 Municipal Circle in Raymore. Of note, the program will be re-enactors of the Buffalo Soldier Mounted Calvary Division. Let's support our good neighbors in Raymore!
Thank you!
Next time you are on Main Street, be sure to drop in at Fletcher's Forms and thank Karen Fletcher for all she does to make our newsletters look so darned good!! Karen is a Life Member of the Belton Historical Society and has served as an officer. She has done so much for us! Thanks, Karen.
Thank you to Renee and Pete Kerckhoff for their recent donation to the Belton Historical Society of $500. We will put it to good use!
Thank you to Betty Ann (Thompson) Woody, for her recent letter. Betty remembers Ona Ruth Smith and Patsy Minkler as childhood friends and wishes them well on their retirement from serving as docents. Betty enclosed a donation to help pay for Halloween candy.
Memberships are UP!
During the past year, Pam Powell has been maintaining the membership rolls. We have a new office in the Board of Directors of Membership Secretary. Evelyn Tabor has been named Membership Secretary.
During the 2017 calendar year we received memberships from 17 people who were not members previously! This shows that our outreach to the community is attracting new people to our Society.
Also during the 2017 calendar year we received 7 LIFE memberships. Welcome: Allen Edmonds, Patricia Calvin, Betsy Shafer, Jackie Kreisel, Linda Medlin, Evelyn Tabor and David Wilcox.
Life members are honored with a brass plaque in our museum. Currently, Ed and Debbie Maurer are working on updating the plaque.
Fund Raising Ideas
Debbie Maurer and Pam Powell are starting a fund raising committee and are looking for members who are interested in such endeavors. Our first mini-fund raiser was held during the July 2018 general meeting, the Ice Cream Social. The monies raised went toward our scholarship fund for 2018. Some ideas have been to design new t-shirts, I Love (heart) Belton buttons, a fashion show and tea party among other ideas. If you have any ideas or would like to contribute to an event to raise funds for our Historical Society, call the museum phone and leave a message on the machine for Debbie and Pam. Many thanks!
Docents
As is our tradition, the museum is closed during the months of January and February. We're hoping our docents are enjoying some well earned time off from their faithful duties. As we prepare our docent schedule for the 2018 season, please consider donating the gift of your time to the Historical Society.
We definitely need help on the first Tuesday of each month to replace retiring docents. We also need help on Saturdays. Several of these days we currently have one docent on duty, but we really need to find a second docent to work with them. The first, second and fifth Saturdays are the Saturdays we need the most help. Please call Pam Powell at 816-331-6710 if you can help with any day.
If you are willing to continue to serve in your current slot during the 2018 schedule there is no need to call. If you have already spoken with Pam to switch dates, the schedule is still being written. Thanks to everyone for your cooperation.
Where Did All the Candy Go?
If you were at our October meeting, you know we had more than enough candy for the Main Street Trick or Treat event. We kept a couple bags to keep the candy dish full in the museum for our docents and guests to enjoy. Since we are members of Downtown Main Street Belton, we donated the rest of our candy to the lighting of the Main Street Christmas tree. Santa distributed a small bag of treats to all the children attending, so we felt our candy was going to a worthy cause. Thanks to everyone who donated so generously!
The Modern Priscillas and the Dorhpa Club
Shown here is a photo from the Dorhpa Club, donated by Rose Herrelson. We have no dates and no identification of the photo.
When Bill Brady and Pam Powell worked in the Carriage House archives in 2017, they found the minutes and membership lists of the Modern Priscillas dated as early as 1904. Indicated in the minutes is the change in the name to the Dorhpa Club.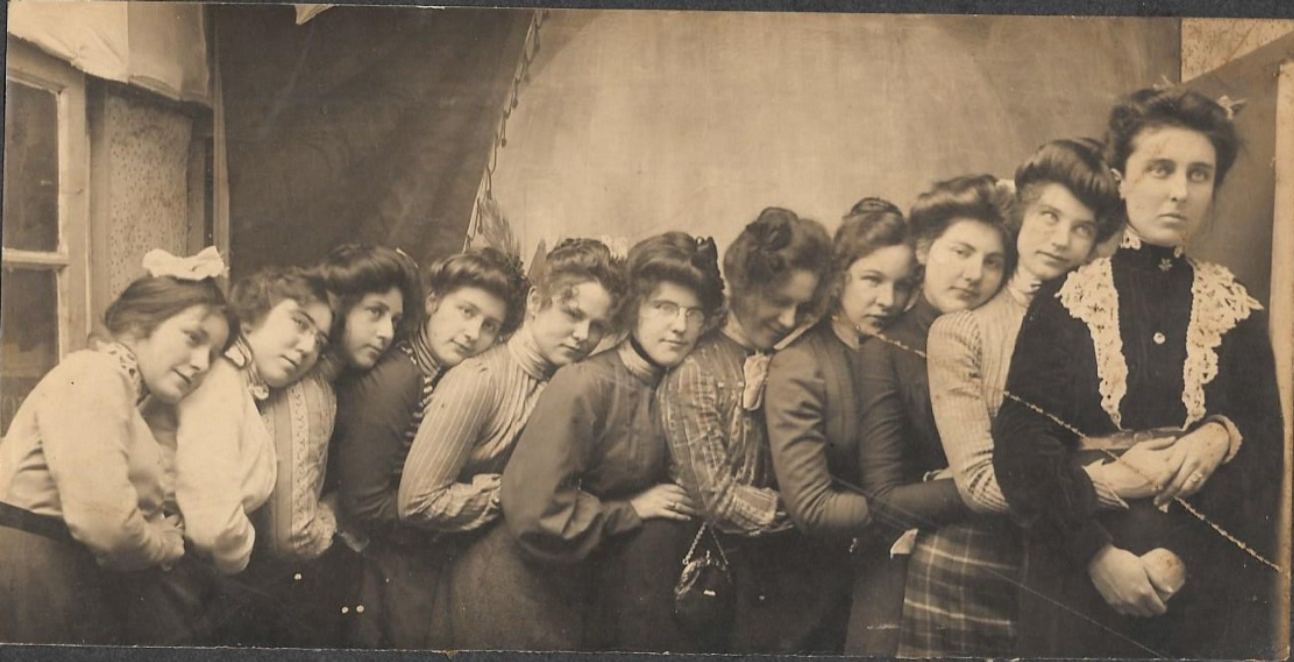 As ladies often did, they referred to themselves only as Mrs. and their married surname. One listing has the following members: Mrs. or Miss: Blair, Bradford, Campbell, Clements, Colbern, Cross, Darst, Dawson, Jerard, Mastin, Miller, Reid, Reynolds, Scott, Sprinkle, Walker, Wallingford.
A quick perusal of the minutes indicates they held their meetings in the members' homes. Attendance was noted, minutes were read, and a program was presented. Refreshments were always served. At some time in 1904, the name of the group was changed (along with the bylaws) to the Dorhpa Club.
A record book indicates that the group existed until 1960 and the names listed included the following: Ferrel, Grimes, Hawthorne, Jerard, Kratz, Lawrence, McKee, Meador, Miller, Pearce, Reid, Rosier, Sams, Turner, Wilhite, Wyatt.
We'd love to learn more about this group. What can you add to this story? Write to us!
PLEASE CONTINUE YOUR SUPPORT OF THE SOCIETY'S WORK BY MAILING
YOUR 2018 DUES. THANK YOU